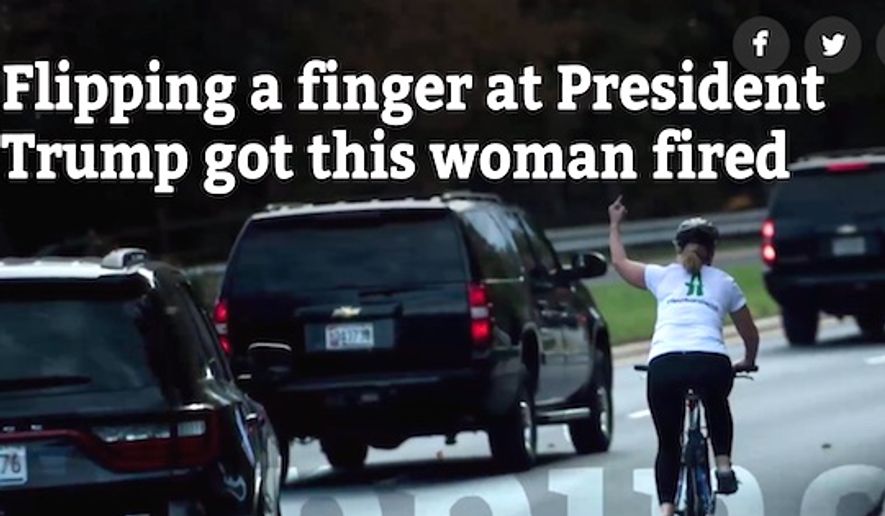 Former government contractor Juli Briskman was fired by Akima LLC after a picture of her giving the middle finger to President Trump's motorcade on Oct. 28 went viral on social media. (Image: HuffPost video screenshot)

A woman whose decision to flip off President Trump's motorcade resulted in a pink slip now says her old employer used a double standard to make it happen.

The hashtag #Her2020 and media attention started shortly after an Oct. 28 bike ride in which Juli Briskman was photographed giving the president's motorcade the middle finger in Sterling, Virginia. The woman's job with government contractor Akima LLC, however, ended after a trip to its human resources department.
Ms. Briskman, 50, now says that Akima LLC's rationale for terminating her employment (she highlighted the image, taken by a White House photographer, on her Facebook and Twitter profiles), rings hollow.

"They said, 'We're separating from you,'" she toldHuffPost on Monday. "Basically, you cannot have 'lewd' or 'obscene' things in your social media. So they were calling flipping him off 'obscene.' "

Ms. Briskman told the website that the consequences for her violation were unfair since another employee was permitted to keep his job after deleting a Facebook post calling someone a "a f-ing Libtard a-hole."
By Douglas Ernst